THE MAGIC OF FLAWLESS FOUNDATION
WHAT IS THE SECRET OF FLAWLESS FOUNDATION?
Are you tired of foundation and powder settling in the lines and making the pores more visible? Most women after the age of 35 experience that the products they used in their 20s no longer give the same results. Makeup can highlight your beautiful features, but if you choose the wrong foundation, it can also make you look older. Both which foundation you choose and how you apply it have an impact on the result.
As Linda herself says; Flawless Foundation suits us with imperfect skin. You know, we who get shiny during the day, have impurities, large pores, lines and dry surface… The list is long! By using my special makeup brush when applying, you get an airbrush effect on the skin. The result is Flawless, even after the age of 53.
Flawless Foundation gives a silky matte finish and does not settle in pores, lines or wrinkles. It has a shelf life of up to 15 hours and has easy to medium coverage.
WHAT DIFFERS IT FROM OTHERS?
Flawless Foundation contains vitamins and antioxidants that protect the skin and provide a shiny surface. It provides lots of moisture, which means that dry skin does not look drier. The ingredients are put together so as not to settle in lines or pores, and it has an effect that makes it "glue" to the skin, without slipping during the day. The high humidity means that you can use powder over without it looking dry. This is a foundation specially made for adult skin, but it can of course also be used by those who are younger.
HOW TO FIND YOUR COLOR?
Choose from 4 shades. Why so few? Based on these shades, almost everyone will find the perfect color for their skin. If you end up between two shades, they are nice to mix, and remember; then it lasts twice as long. The price will therefore be the same.
Foundation should even out the skin tone, it should not act as a "tanning lotion". You should choose a shade lighter than your skin. This is because it oxidizes in air, and thus becomes a little darker when it lies on the skin. Flawless Foundation has medium opacity. If you want more tires, you can apply it in several layers, but it is recommended to apply with LUX Brush Foundation for optimal results.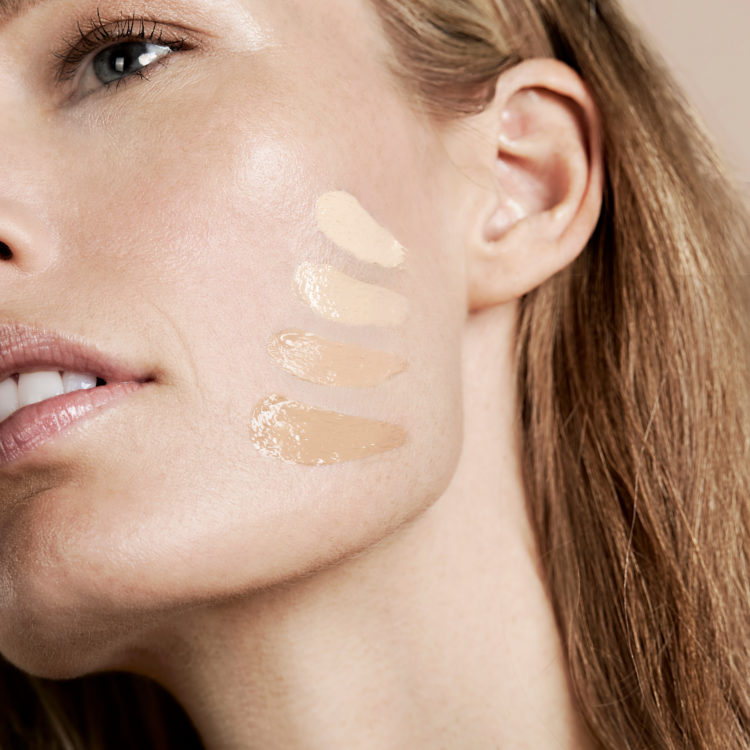 It is common to mix two shades. We have different skin tones throughout the year, so it's nice to be able to mix until the perfect tone. Choose from 4 neutral colors:
LIGHT - Very light skin (blonde, this one uses Linda)
LIGHT / MEDIUM - Light skin (blonde / brunette)
MEDIUM GOLD - Medium light skin (brunette)
MEDIUM TAN - Medium skin or «summer brown» (deep / brunette)
HOW TO GET THE BEST RESULTS?
For best results, we recommend theLUX Brush Foundation . This means that you get a fluffy, "airbrushed" finish and very little product is wasted. It's a technique, and with a little practice you can fix it well.
This is what you do:
Apply a little foundation on the back of the hand and move the broom's outer white hair lightly in the makeup cream without rubbing the broom into the make-up. Apply the face in light, circular motions repeatedly until the desired opacity is achieved. At the first sweep over the skin it may look uneven, but after a few seconds the product will flow out nicely. We promise that you will be surprised by the result, and how incredibly fast and easy it is!
THE MAGIC TOUCH…
To ensure that the foundation does not slip or accumulate in wrinkles during the day, I recommend always applying HD Mattening Powder after foundation. It is a mattifying powder completely without color, which does not settle in pores or lines. The finely ground consistency creates a perfect "soft touch effect", and increases the durability of the result. Every little grain in our matting powder is so fine that it gives a silky soft finish without bumps, and it does not layer on the skin with multiple applications. Completely colorless and contains only mica and silica.
This is what you do:
Dump some powder into the lid of the HD powder and move the broom into the lid to fill it with powder. Swipe the broom all over your face. Repeat until you see that the skin is matte as you wish. Mattening HD Powder is exactly what the name implies, completely invisible!
Suitable for all skin types, does not settle in fine lines, and does not make the skin or the result dry. Maximizes the durability of makeup and suits all skin tones.