Environmentally friendly scented candles
My home is my castle!
Many people do not know, but I am a very home-loving person, who loves to enjoy myself within the four walls of the house.
Since I have been in the public eye throughout my adult life, my home has become my free zone, where I can shrug my shoulders and just be "Linda from Ski".
It also means that I love to make it cozy at home, and one of my many little passions is scented candles and the atmosphere they give. Isn't it cozy to light a candle in the autumn or winter darkness and feel that a delicious scent fills the room?
But do you know what my big "light frustrations" are?
Yes, there are 3 things… Firstly, most candles soot a lot and they are environmental nuisances. Then, they smell way too much and I have to turn them off after a short time, because the smell "takes over" the room. And last but not least, when I finally find the scent I like best, the light comes in only one color, and it does not fit in my living room. Really annoying!
Therefore, I chose to focus on my "frustrations" when our scented candles were to be produced, ie environment, soot, scent, quality and optional glass for different rooms. Wasn't that smart?
It took a long time to find the right supplier of lights, but we did not have to travel far if it turned out. Just across the Swedish border, we found a producer who is responsible for the important factors that matter; namely quality and environment.
Together with them, we came up with exactly the wax mixture that suits us; a sustainable and environmentally friendly blend with cotton wicks that do not soot. The purest perfume essences in a mild combination that does not just fit with fragrance, so that the nose does not sting, or the taste of dinner is disturbed.
In addition, I could make the candle in three glass colors, so that you can have the same scent adapted to different interiors. For me, it means having a white light in the bathroom, a bright light in the kitchen and a black light in the living room that all burn at the same time, but only a lovely scent throughout the house. Isn't that just absolutely wonderful? I call it my own "scent surronding".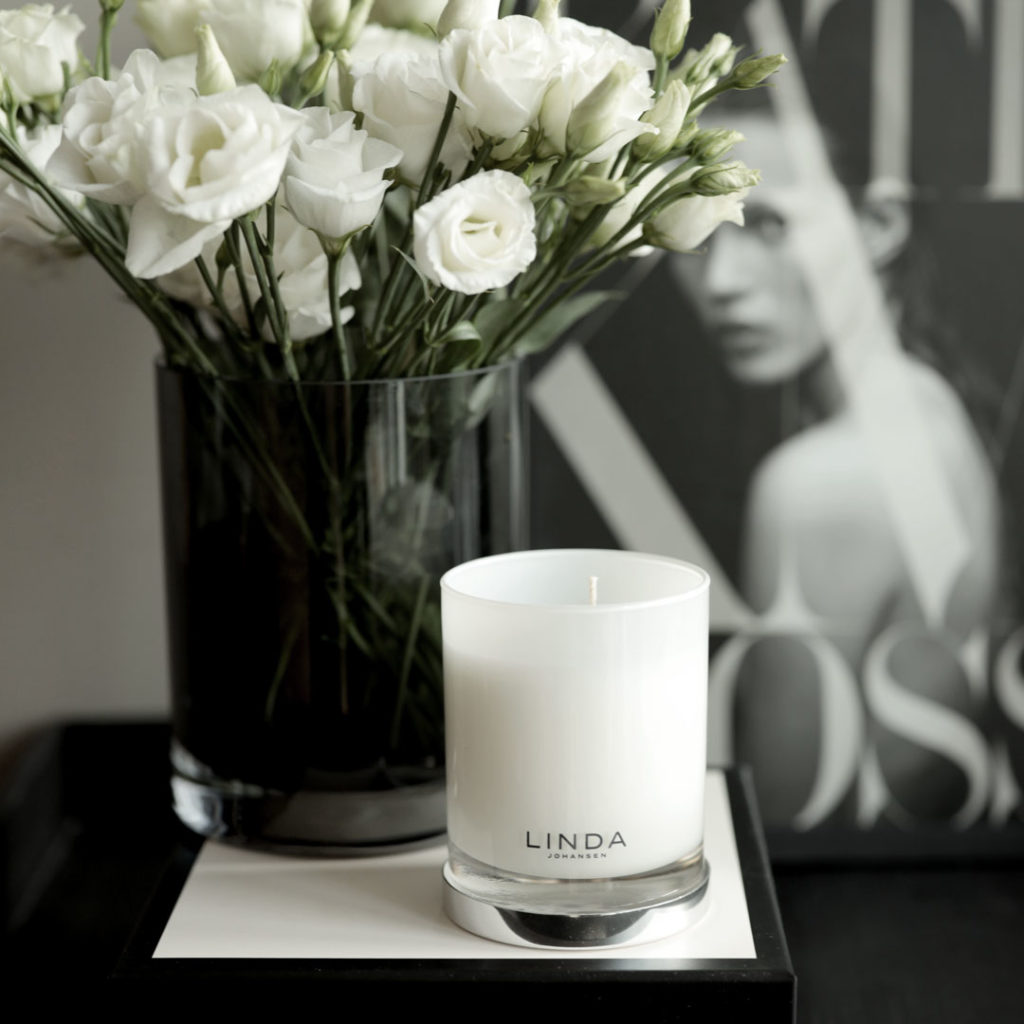 How to best take care of the light:
1: Always cut the wick down to a maximum of 1 cm. before lighting the candle, even the first time.
2: Always let the candle burn for at least 30 minutes the first time, or until the entire surface of the candle has melted, so that the hot wax does not melt a tunnel into the candle and shortens both life and fragrance experience.
3: Always switch off the light by putting on the lid and leaving it lying around. That way, you avoid smoke and odors spreading around the room, and you avoid blowing hot wax over the glass.
Tips!
The jars can withstand a few rounds in the dishwasher after use. Clean them and turn them into small vases, tea light holders, jewelry boxes or maybe makeup brush holders? Wash the lid with Zalo and water. 🙂
USEFUL FACTS:
Did you know that Norway, Sweden, Finland, the USA and Australia are at the top of the world in burning scented candles? Few, however, are aware that 95% of all scented candles consist of paraffin. Paraffin is extracted from crude oil, it is associated with poor indoor climate. Paraffin candles emit more soot particles, are less environmentally friendly and more flammable.
Based on estimated consumption figures and emissions of carbon dioxide, it is estimated that if we had not used parafinlys, we would reduce greenhouse gas emissions as much as by removing 21,000 cars from the roads. This is what the environmental chemist in the Nordic Ecolabel, Kristian Kruse, says.
For environmental reasons, you should therefore choose the candles that do not contain paraffin. Choosing a candle made from 100% stearin is far better, but choosing a candle from 100% vegetable oils is the very best. These are renewable raw materials that make a positive contribution to the environment.
Another common oil product in scented candles is soy. Soy is used in food production for both animals and humans in large parts of the world. It is therefore desired that the use of this be limited. Our candles are 100% free of paraffin and soy.
Our candles have a burning time of over 50 hours. This is considered long, as it can normally be expected up to 35 hours. The reason is the choice of wax mixture, wick and fragrance.
Adding coconut oil makes the light softer, so that it melts finer, but also creates variations in the appearance of the wax. You can therefore experience natural differences in the structure of light.