SHOULD YOU CHANGE CLEANING ROUTINE IN THE SUMMER?
… The answer is YES!
Most people experience that the skin changes as the temperature increases. You use solar products, sweat more easily, and many get an increased sebum production. All this affects our skin. By cleansing the skin well every day, even on holiday, you will prevent clogged, chapped and irritated skin.
Have you heard of double cleaning?
Sunscreen, make-up and sebum (natural oils in the skin), need an oil-based cleanser to be adequately removed. If you do not remove everything, it will remain as a film on your skin, just like in the frying pan without detergent. This prevents other products you lubricate from pulling in, while clogging the pores.
For optimal cleaning, we therefore recommend " double cleaning". This means that you first clean with an oil-based cleanser ( Cleansing Balmm ) to remove makeup, pollution and residues of sun factor. Then clean with a water-based cleanser (such as Foaming Face Wash orSalicylic Face Wash ) to wash away the residue from the oil, as well as sweat and dirt on the skin. Finish with a tonic that cleanses in depth and you have a shiny clean skin that is ready for serum and cream. 
After a good night's sleep through a hot summer night, the skin has excreted sweat, sebum and waste products. Therefore, it is important to cleanse the skin in the morning as well, even if you have no plans to put on make-up. We recommend a light cleansing with Foaming Face Wash followed by a tonic that prepares the skin for a new day in the sun.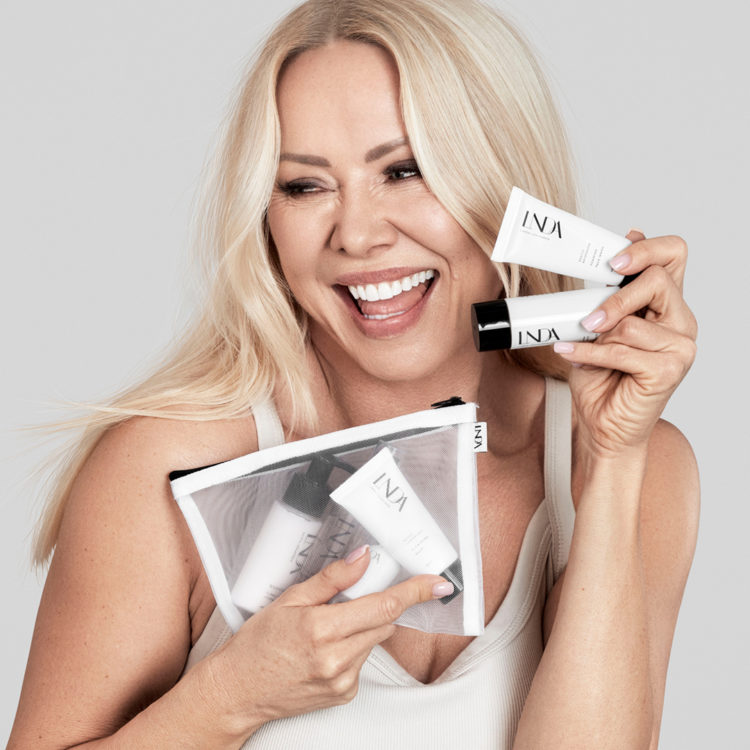 PERFECT FOR THE COTTAGE TRIP!
Bring our Travel Size cleaning products on holiday this summer. It does not get easier to maintain a good routine and to feel fresh all summer.
LINDAS TIPS!
Min hud har porer, får fremdeles litt utbrudd og jeg bruker makeup hver dag. Derfor bruker jeg disse renseproduktene, for å være helt sikker på at jeg har ren hud, innenfra og ut. 
 
På morgenen renser jeg med antibakterielle Salisylic Face Wash, vasker av med mikrofibervott og påfører Salicylic Tonic. Da får jeg renset porene, får bort oljer og døde hudceller og jeg får en frisk, fin hud med mindre utbrudd. 
Husk: Du bruker ikke mere produkt av å ha flere renser, du fordeler det bare utover lengre tid! 
 
På kvelden dobbeltrenser jeg med Cleansing Balm og Daily Exfoliation Wash for å bli kvitt solkrem, sminke, forurensing og skitt. Vasker av med mikrofiberklut og påfører Daily Exfoliation Lotion  før serum og krem. Da får jeg også en lett daglig eksfoliering, som forhindrer døde hudceller og sikrer den friske gløden.
Vi har nå 4 renseprodukter i vår serie. Noen kombinerer alle, mens andre finner sin ene favoritt.
Cleasning Balm er en oljebasert rens som passer perfekt for deg som har tørr til normal hud. Den fjerner sminke og solfaktor, og passer derfor perfekt som steg 1 en en «dobbeltrens».
Foaming Face Wash er en skummende rens og passer alle bortsett fra veldig tørr hud. Den tar bort sminke, men ikke like bra som Cleansing Balm.
Salicylic Face Wash er en skummende rens med salisylsyre, som passer for deg med fet og kombinert hud. Den renser opp i porene og holder dem rene.
Daily Exfoliation Wash er et renseskum med AHA-syrer, som kan brukes daglig for en grundig rens og en lett eksfoliering. (Finnes dessverre ikke i reisestørrelse.)
TIPS: Bruker du mer enn 3 renseprodukter fast, så lønner det seg å ha dem på fast rabatt! Da får du alltid 20% rabatt og du velger selv intervall på levering.
Les mer om dette her.