What is niacinamide?
Niacinamide is a "super ingredient" that works wonders for the skin. It is one of the skin care ingredients with the best documented effect. It soothes, repairs and prevents. The ingredient is suitable for all ages and skin types - in concentration adapted to the individual, and in combination with the right active ingredients.
What does niacinamide do?
Niacinamide, which is also known as vitamin B3 and nicotinamide, has a number of good properties. Ingredients:  
Reduces large pores

Strengthens the skin barrier

Protects against free radicals

Regulates sebum production

Prevents and reduces pigment spots

Reduces redness and gives a more even skin tone

Binds moisture in the skin
This is an ingredient that both protects, repairs, prevents and cares for the skin.  
What does niacinamide help with?
The active ingredient is suitable for all ages and skin conditions - even skin with rosascea, and it can be advantageously combined with other active ingredients such as retinol, peptides or acids. Niacinamide can help you fight a variety of skin challenges, including:  
Dry Skin
Vitamin B3 helps the skin retain moisture, because it strengthens the skin barrier. It promotes the formation of ceramides in the skin, which are the fats on the surface. This also helps keep the skin more moisturized and plump.

 

Uneven skin tone and pigment spots


B3 has a unique ability to split the pigments that clump together and form pigment spots. It will also curb the formation of too much pigment in the cells.

 

Rosascea / irritated and sensitive skin
By soothing and strengthening the skin barrier, the skin will be stronger against external stresses. It has an anti-inflammatory effect on the skin and reduces redness.
Reduce sebum production / strengthen pores


A stronger pore wall will be "tighter in the elastic" than a loose one.

Niacinamide helps to both tighten the pores and reduce sebum production - so that the pores are kept clean.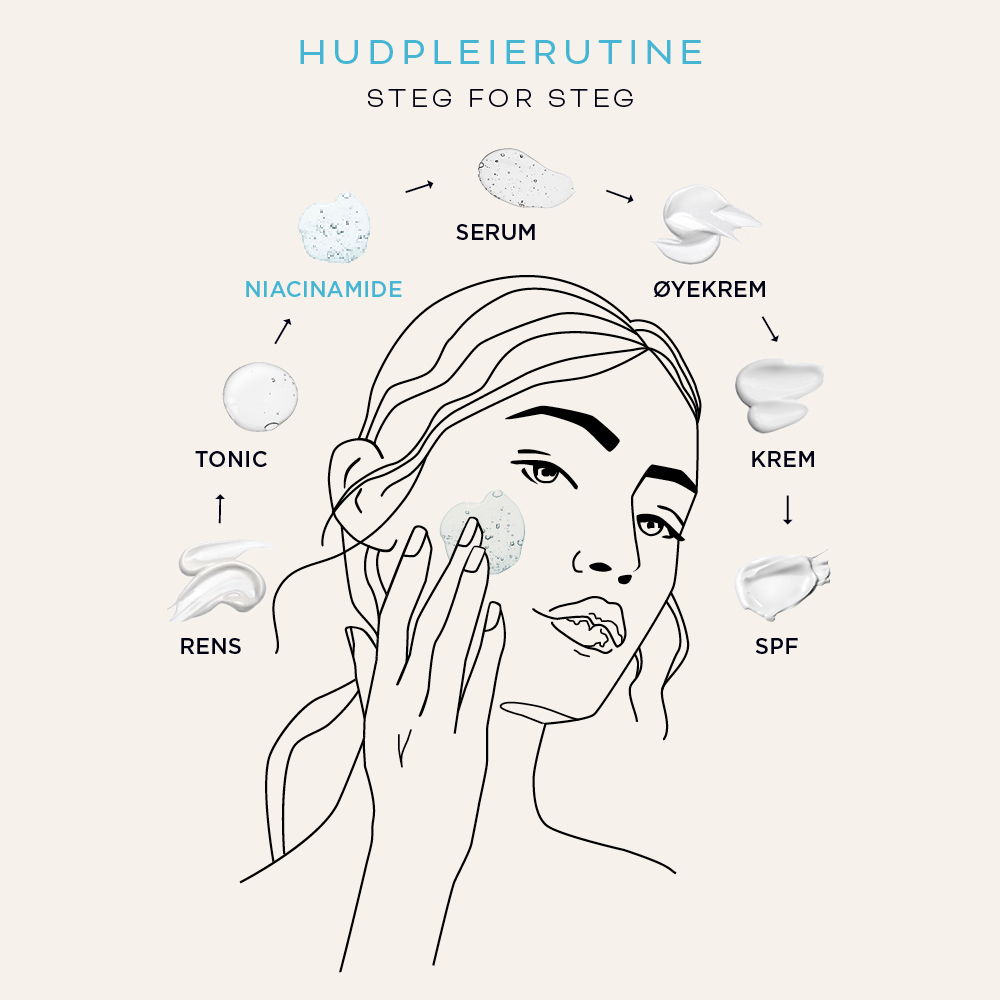 Which niacinamide product suits my skin?
Both the concentration of niacinamide and which other active ingredients the ingredient is combined with have an effect on the effect. For example, the concentration must be a minimum of 4% in order to experience an effect on pigment spots. 
What you need to think about before adding niacinamide products to your skincare routine is:
How high a concentration of niacinamide does my skin need?

 

What other active ingredients may my skin need, in combination with niacinamide?
Linda has developed two effective niacinamide serums - one with 10% of the active ingredient, and the other with 20% niacinamide. Both thus have a sufficient amount of niacinamide to give a good effect. The "mildest" niacinamide serum is excellent for the prevention and repair of minor skin damage, while the serum with 20% niacinamide is strong enough to repair major skin damage - typically on more adult skin.  
Read more about which niacinamide serum you should choose!