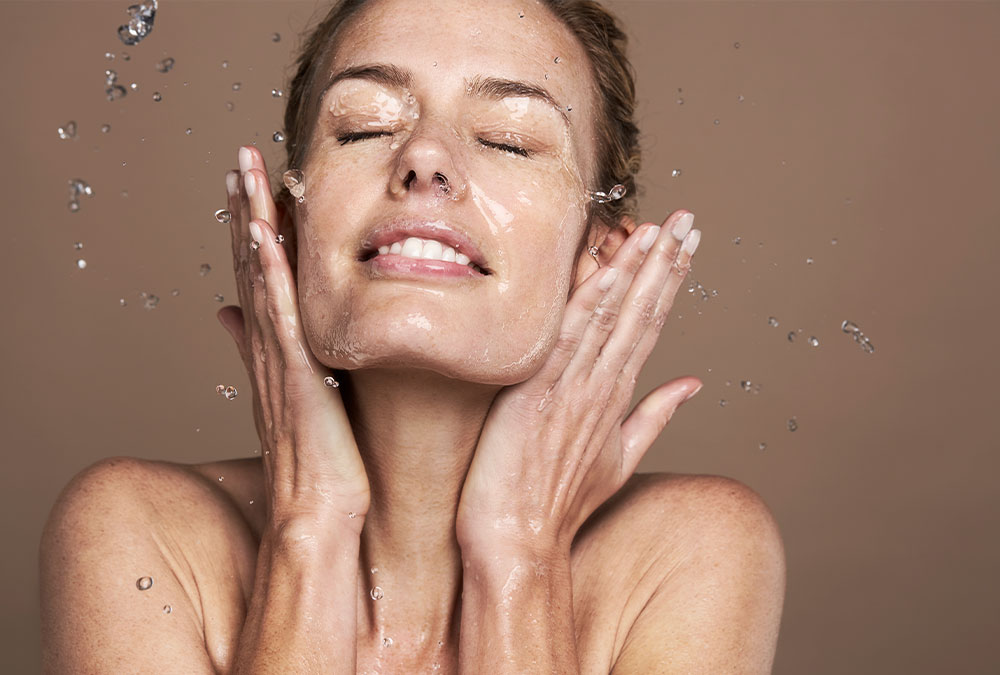 Do you spend money on anti-aging products instead of cleansing products? Or do you find it difficult to be motivated to cleanse your skin every morning and evening?
For me , the cleansing routine is an essential part of skin care, but washing with only water is not enough. Water alone will never be able to remove fat, pollution, oils, sebum and dead skin cells from the skin. If you do not remove this, you will only smear the expensive products on top of a film, and you will not get much benefit from it.
If you struggle with large pores, cleansing is also one of the most important things you do. If you clean sebum and waste products out of the pores daily, they will be smaller, and the skin will look smoother and healthier.
When the skin is clean, it becomes considerably more receptive to the effects of the other products you apply, both morning and evening. Therefore, it pays to find cleaning products you like and use them every day! 
What does it mean to double cleanse ? 
For optimal cleaning, I recommend " double cleaning". This means that you first clean with an oil-based cleanser ( Cleasning Balm ) to remove makeup, pollution and residues of sun factor. Then clean with a water-based cleanser ( Foaming Face Wash orSalisylic Face Wash ) to wash away the residue from the oil, as well as sweat, waste products and dirt on the skin. Finish with Salisylic Tonic which cleanses in depth or Balancing Tonic which moisturizes and soothes, and you have a shiny clean skin that is ready for serum and cream. 
Tip : Wash cleansing products, peels and masks with our microfiber mitten , and you are sure to remove all remnants of product on the skin. At the same time it gives a light exfoliation.
Bruker du penger på anti-age produkter i stedet for ansiktsrenseprodukter? Eller synes du at det er vanskelig å bli motivert til å rense huden hver morgen og kveld?
For meg er renserutinen en essensiell del av hudpleien, men å vaske med kun vann er ikke nok. Vann alene vil aldri kunne fjerne fett, forurensing, oljer, talg og døde hudceller fra huden. Fjerner du ikke dette, så smører du bare de dyre produktene oppå en hinne, og du vil ikke få så mye utbytte av det. 
Sliter du med store porer, er også rens noe av det viktigste du gjør. Renser du talg og avfallstoffer ut av porene daglig, vil de bli mindre, og huden ser jevnere og sunnere ut.
Når huden er ren blir den betraktelig mer mottagelig for effektene av de andre produktene du påfører, både morgen og kveld. Derfor lønner det seg å finne renseprodukter du liker, og bruke dem hver dag! 
Hva betyr det å dobbeltrense? 
For optimal rens anbefaler jeg å "dobbeltrense". Det vil si at man renser først med en  oljebasert  rens (Cleasning Balm) for å fjerne makeup, forurensing og rester av solfaktor. Så renser man med en  vannbasert  rens ( Foaming Face Wash eller Salisylic Face Wash) for å vaske bort restene fra oljen, samt svette, avfallstoffer og skitt på huden.  Avslutt med  Salisylic Tonic som renser i dybden eller Balancing Tonic som fukter og roer, og du har en skinnende ren hud som er klar for serum og krem.  
Tips: Vask av renseprodukter, peeling og maske med vår mikrofibervott, og du er sikker på å få fjernet alle rester av produkt på huden. Samtidig gir den en lett eksfoliering.
MIN RENSERUTINE
Min hud har porer, får fremdeles litt utbrudd og jeg bruker sminke hver dag. Derfor bruker jeg alle tre renseprodukter for å være helt sikker på at jeg har ren hud, innenfra og ut. 
 
På morgenen renser jeg med antibakterielle Salicylic Face Wash, vasker av med mikrofibervott og påfører Salicylic Tonic. Da får jeg renset porene, får bort oljer og døde hudceller og jeg får en frisk, fin hud med mindre utbrudd. 
Husk: Du bruker ikke mer produkt av å ha flere renser, du fordeler det bare utover lengre tid! 
 
På kvelden dobbeltrenser jeg med Cleansing Balm og Foaming Face Wash, for å bli kvitt sminke, forurensing og skitt. Vasker av med mikrofiberklut og påfører Salicylic Tonic  før serum og krem. Er huden min litt i ubalanse eller jeg har behandlet den med syrer, velger jeg heller Balancing Tonic. 
Vi har 3 renser i vår serie. Noen kombinerer alle, mens andre finner sin ene favoritt.
Cleasning Balm er en oljebasert rens, som passer perfekt for deg som har tørr til normal hud. Den fjerner sminke og solfaktor, og passer derfor perfekt som steg 1 i en «dobbeltrens».
Foaming Face Wash er en skummende rens og passer alle bortsett fra veldig tørr hud. Den tar bort sminke men ikke like bra som Cleansing Cream.
Salicylic Face Wash er en skummende rens med salisylsyre, som passer for deg med fet og kombinert hud. Den renser opp i porene og holder dem rene.
TIPS: Bruker du 3 eller flere renseprodukter fast, så lønner det seg å ha dem på fast rabatt! Da får du opptil 25% rabatt og du velger selv intervall på levering.
Les mer om dette her.