Julegave Silk kit
Christmas gift offer
Julegave Silk kit
Products in this bundle
This is quality! Do you want to give the best to your skin and hair, and at the same time sleep silky soft? Then you should try my Beauty Silk pillowcase which is made of 100% Charmeuse Mulberry silk (22 momme) . There are many silk pillowcases on the market during the day, so be aware of the big differences in quality. Many people do not know that silk should be part of a skin care routine. Silk contains protein and amino acids, which helps maintain the skin's natural balance. Watch video further down :-)

Continue reading

This is quality! Do you want to give the best to your skin and hair, and at the same time sleep silky soft? Then you should try my Beauty Silk pillowcase which is made of 100% Charmeuse Mulberry silk (22 momme) . There are many silk pillowcases on the market during the day, so be aware of the big differences in quality. Many people do not know that silk should be part of a skin care routine. Silk contains protein and amino acids, which helps maintain the skin's natural balance. Watch video further down :-)

Continue reading
Alle vi har snakket med sier de sover bedre på silke! Den eneste måten å finne ut om det stemmer er å prøve selv. Dette er en deilig gave å få til jul, og en flott gave å gi. Mine silkeputetrekk er av den aller beste kvalitet, 22 momme, og ofte er disse å se til langt høyere pris. Alle julepakker inkluderer et gratis Blissful Rain duftlys i full str.
What does it do
Description
We sleep a third of our lives and then it is wise to take care of the skin and hair while we sleep. Silk pillow covers prevent sleep wrinkles and pressure marks from lying on the side, in addition to many other benefits.
- Struggles less on the hair and gives more shiny hair.
- Does not absorb the skin's natural oils.
- Does not absorb moisture from the scalp and face.
- Is allergy friendly and does not attract mites and dust.
Use
How to do it
How to wash Beauty Silk in a machine:
Silk does not tolerate strong heat, wash at 30 degrees.
Choose a program with the shortest and lowest possible spin, preferably with a wool / silk program.
When washing by hand, do not twist the silk hard as this can damage the silk threads over time.
Use a mild detergent, we recommend Milo or baby shampoo. You do not need to use a lot of detergent, a couple of teaspoons are enough.
Dry the silk by laying it as flat as possible, or use a stand. But be aware that there will be "hanging stripes" where the pillow cover is in folds over the string.
Silk MUST NOT be dried in the sun. Exposing silk to direct sunlight for a long time can damage the delicate silk fibers.
Silk often gets a little wrinkled after washing, but it can be ironed well. Use low temperature and move the iron continuously. Silk is easily burned, do not iron the same part for more than 5 seconds at a time.
One of the properties of silk is that it is to a certain extent self-cleaning. It is therefore not necessary to wash silk as often as other textiles. If you ventilate it regularly, you can save a lot of washing.
FAQ
Useful info
Silk has been used in China for thousands of years, and originally only the Emperor and other high-ranking officials could adorn themselves with the exclusive item. Mulberry silk is the most exclusive and delicate silk on the market, and it is also the most expensive.
The quality of silk with "momme" is described, ie how tightly woven and heavy the silk is.
If the price of a silk product is low, it is often cheap imitations (polyester = "plastic-based cheat silk") or typically low momme (weight) that do not provide the same benefits or durability.
Ingredients
Contains
Linda Beauty Silk is made of 100% Charmeuse Mulberry silk (22 momme) of the highest quality (A6 standard) that lasts for many years.
The pillow cover comes in 50cm x 70 cm and can be machine washed with a silk / wool program at 30 degrees.
Linda's Beauty Silk products are approved in accordance with the quality standard Oeko-Tex 100.
Gives

0

BeautyPoints
More than 25 in stock
Free shipping on orders above 1500.-
Ships within 1 business day!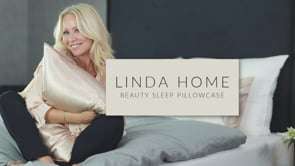 Linda's tips
Silk is amazing!
Silk is a natural product and the most wonderful thing I know about sleeping on. Watch the gorgeous pillowcases "live" in the video here.
Spin movie! 🙂
We know skin