Refill - Meso Serum
Unfortunately sold out
Refill – Meso Serum
This is an advanced treatment serum. Have you already bought and completed a Meso Glow Skin Roller cure? Then you can now buy serum (4pk), rolls (4pk) and ampoule sets separately. Here you get 4 Meso Serum to use with the rollers. Continue reading
What does it do
Description
Meso Glow Rolling System is a treatment where you use a roller that is coated with microscopic needles that you roll over the skin. You roll after applying this serum, to create microscopic holes in the skin surface. The needles are made of a crystallized serum, which dissolves down the skin, and thus punctures to the skin's surface and active substances pressed, while the roll-needle dissolve and release the active substances into the skin.  
This serum comes in 4 small pipette bottles, and can also be used outside the rolling system.
Use
How to do it
If the serum is to be used with Meso Roller, follow the instructions for use for the procedure for this treatment.
Otherwise you use approx. 4 drops for face and neck (5 if you are going to bring breast / décolleté). Locked in with SkinLifter or lubricated before day or night cream.
FAQ
Useful info
The Meso serum is made to be used with the Meso Glow Skin Roller Kit, but can also be used alone. It is water-based and does not contain oils.
Meso Serum contains anti-aging ingredients, such as EGF (Epidermal Growth Factor), which increases the skin's own production of collagen, elastin and hyaluronic acid.
Ingredients
Contains
Contains:
Meso Glow Serum 5 ml x 4

Ingredients:
MESO GLOW GF-1 / Growth Factor 5 ml x 4
Ingredients: Aqua, Glycerin, 1.3 Butylene Glycol, Hamamelis Virginiana (Witch Hazel) Extract, Morus Alba (Mulberry) Extract, Sclerotium Gum, Sodium Lactate, Sodium Hyaluronate, Triethanolamine, D-panthenol, Lactic Acid, Carbomer, Allantoin, Phenoxyethanol, rh -Polypeptide-11 
Suitable for
Perfect for
25+

35+

45+

55+

Normal / Dry

Very Dry

Sensitive / Rosacea

Combined / Blank
Gives

0

BeautyPoints
Free shipping on orders above 2000.-
Ships within 1 business day!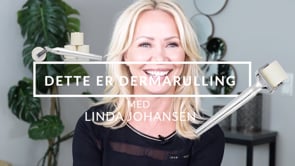 Linda's tips
meso glow
Rolling the skin is nothing new, but rolling with roller needles that dissolve deep in the skin, it is something completely new. Watch the movie where I show you the whole treatment. Run movie!
We know skin
Filter reviews
Age:
Skin type:
Rating:
Filter reviews
Write a review and get 10 BeautyPoints =

kr

10
Only logged in customers who have purchased this product may leave a review.