Refill - Meso Roller
4 pcs Meso Rolls

Refill – Meso Roller
Have you already bought and completed a Meso roller coaster? Then you can now buy refills for the rolls (4pk). NB: you must have a rolling handle from before, because it is not included in the package .
Helps skin bind moisture! Super Hydration Booster is suitable for everyone, especially dehydrated and sensitive skin that needs extra moisture. The highly moisturizing and plumping effect of nano-hyaluronic acid makes the skin softer and counteracts dry lines, rashes and sagging skin. The skin appears firmer, smoother and more radiant. Mix 1-2 drops in serum or cream and voila, you have boosted your skin care.

With hyaluronic acid that binds moisture
Counteracts dryness, dandruff and sagging skin

Continue reading
What does it do
Description
Take my 4 week cure for "NEW" skin!
Meso Glow Rolling System is a treatment where you use a roller that is coated with microscopic needles that you roll over the skin. You roll after applying an active serum, to create microscopic holes in the skin surface. The needles are made of a crystallized serum, which dissolves down the skin, and thus punctures to the skin's surface and active substances pressed, while the roll-needle dissolve and release the active substances into the skin.  
This method originates from the pharmaceutical industry and is called «transdermal  drug del i very  system »that delivers  bio - active  substances into the skin . Examples of this are nicotine patches and contraceptive patches.  
The treatment is simple and painless and it can be performed weekly, or every 14 days. The rolls are 100% hygienic and should ONLY be used for one (1) treatment. After treatment, the roller is no longer active and must be thrown away .  
Use
How to do it
Open one (1) roll pack by pulling off the protective paper. Do not touch the roller with your fingers! Click the roller handle firmly on the roller head without removing the roller head from the plastic cover.
2. Cleanse the skin well, preferably followed by a light facial scrub. We recommend Foaming Face Wash and Magical peel  
3. Apply plenty of s erum all over the face and let it soak in. Begin to roll over the skin at a leisurely pace , with a light pressure . Ru l l from the center of the face and out and upwards. Start at the jaw area and roll approx. 4 times back and forth before moving the roller to the cheekbone. Then temple and forehead. Switch from side to side after half the face is rolled. It is important to change sides as the spikes dissolve and they become less sharp as you roll.  
After 5 minutes, apply more serum, allow it to soak in and continue rolling. In total approx. 15 minutes.  
5. Finish the treatment by applying a whole ampoule + your face cream, we recommend e.g. Healing Cream or Cold Cream.
For an intensive treatment, you can roll every 4 days for 5 weeks, ie 8 treatments (2 sets) in total. Then maintain with 1-2 treatments per. mnd.
FAQ
Useful info
The skin may feel reddish and slightly sore. This is quite common and is the result of 3,000 tiny needles that break the surface of the skin. If the skin feels dry or tight after treatment, apply plenty of face cream to the supplied ampoule .  
Treatment should not be performed more often than 1-2 times per. week, when the skin needs time to stabilize. There should be a minimum of 3 days between each treatment. For an intensive treatment, you can roll every 4 days for 5 weeks, ie 8 treatments in total. Then maintain with 1-2 treatments per. mnd.
We do not recommend using products with AHA acids immediately before or immediately after a Meso Glow treatment. 2 days before and after is a good rule of thumb.  
Meso Glow rolling system is suitable for ages 30+ and can be used on normal / slightly sensitive / dry / combination / oily skin. Do not use on active acne with pus or very sensitive skin.

Ingredients
Contains
Contains:
Roll head x 4 - used immediately after opening
Ingredients:
MESO ROLLER - 3000 needles, 0.25mm
Ingredients: Sodium Hyaluronate , Trehalose, Glycerin, Propanediol, Simmondsia Chinensis Seed Oil, Butylene Glycol, Caprylyl Glycol, Madecassoside, 1,2-Hexanediol, Polysorbate 80, Ethylhexylglycerin, Acetyl Hexapeptide-1, TripCeptide -Acetate, -4, sh-Polypeptide-11
Suitable for
Perfect for
25+

35+

45+

55+

Normal / Dry

Very Dry

Combined / Blank
Gives

0

BeautyPoints
More than 25 in stock
Free shipping on orders above 2000.-
Ships within 1 business day!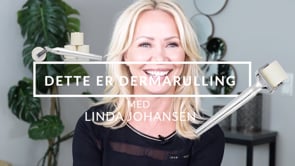 Linda's tips
meso glow
Rolling the skin is nothing new, but rolling with roller needles that dissolve deep in the skin, it is something completely new. Watch the movie where I show you the whole treatment. Run movie!
We know skin
Filter reviews
Age:
Skin type:
Rating:
Filter reviews
Write a review and get 10 BeautyPoints =

kr

10
Only logged in customers who have purchased this product may leave a review.