Mini Duftlys - Blissful Rain
Also available in large size!

Mini Duftlys – Blissful Rain
A scented candle is always nice to test first, so here you have a mini version. Our scented candles are environmentally friendly, made with natural rapeseed and coconut oil, and have a light, fresh scent. The large ones come in 3 colors, which means that you can match your interior in the bathroom, living room and hallway while filling the house with the same scent. The light burns evenly and of course the cotton swab does not soot. The mini version comes without a lid (which comes with the big one). We love to light up the winter with this delicious scented candle!
What does it do
Description
The day is getting sunny and warm. The air is fresh, but still soft after the night's rain. A dewy breeze of gentle flowers touches your skin and makes you smile.
---
Fragrance is divided into notes, and it is these notes that determine how the fragrance should develop.
Top notes: This is the first scent you smell. It is strongest in the beginning, but fades quickly. (Honeysuckle, Freesia, Honeydew Melon, Bergamot, Lemon Peel)
Middle notes: When the top notes fade, the middle notes come to life and fill the room. These often last longer with the bottom notes. (Lily of the valley, Sunflower, Alpine violet, Daisies, Geranium)
Bottom notes - These are released last, and they last the longest. This scent will stay and it will surprise you little by little, after the other notes have faded. (Musk, Vetivergrass, Sandalwood, White Cedar)
Use
How to do it
Cut the wick down to a maximum length of 1 cm before lighting the candle.
Always let the candle burn for at least 30 minutes, or until all the wax on the surface has melted. If you turn off the light before the surface has melted, the light will burn down in a "tunnel" and the duration will be short.
Always cut the wick down to a maximum of 1 cm before switching on the light again.
FAQ
Useful info
Today, more than 90% of all candles are produced with the environmentally worst paraffin, and large amounts of palm oil. Otherwise, a lot of soy is used for paraffin-free candles, but soy is actually an important resource in food in large parts of the world. Basically, most of the candles we burn today are neither good for the environment nor ourselves.
Our Swedish producer has developed its own environmentally friendly wax mixture based on rapeseed grown in Sweden. As much as 90% of the wax consists of rapeseed, mixed with a few percent coconut oil to make the wax soft so that the light melts evenly.
* Note that our environmentally friendly wax is a "living" mass that changes structure according to temperature. This is visible through the clear glass and shows the adult's natural appearance. This means that the adult does not always look perfect, we call it "perfect un-perfect"!
Ingredients
Contains
100% Natural, 100% Vegetable
No paraffin, kerosene, beeswax or animal ingredients.
The scented candle contains a few% traceable sustainable palm oil with the highest environmental certification RSPO Identity Preserved (IP). Having this certification ensures the planting of new trees, and a contribution is made to the Rainforest Fund. The Rainforest Fund recommends only buying products that hold this type of certification. (The oil affects how the light burns and its diffusion of fragrance.)
We use cotton wicks and wax that does not soot, and the boxes for the candle are produced in Norway with paper made from Nordic timber.
Made of:
Rapeseed oil, Coconut oil, Sorbitan Tristearate (2-4%, RSPO Identity Preserved (IP) certified / sustainable) - Fragrance ingredients: Benzyl salicylate, linalool, lilial, cyclamen aldehyde, citronellol.
60 g
Gives

0

BeautyPoints
More than 25 in stock
Free shipping on orders above 2000.-
Ships within 1 business day!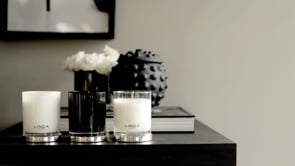 Linda's tips
Gorgeous scented candles
Here you can see how gorgeous the scented candles are and what they look like in a home environment. I promise, they smell absolutely heavenly beautiful. 🙂
We know skin
Filter reviews
Age:
Skin type:
Rating:
Filter reviews
Write a review and get 10 BeautyPoints =

kr

10
Only logged in customers who have purchased this product may leave a review.