Blotting Powder
Perfect in the bag
Blotting Powder
Touch Up Matte effect! A compact transparent powder as a bsorberer excess gloss and matting blank areas. Perfect to use during the day where the skin secretes sebum. Used before / after makeup or for regular touch- ups . Apply the powder on the areas that are shiny and that you want to matte down. Perfect bag size! Continue reading
What does it do
Description
Touch Up Matte effect! A compact transparent powder, as a bsorberer excess gloss and matting blank areas. Perfect to use during the day where the skin secretes sebum. Used before / after makeup or for regular touch- ups . Apply the powder on the areas that are shiny and that you want to matte down. 
Use
How to do it
Use a broom or the supplied sponge and apply powder on shiny areas.
Suitable for all skin types and does not settle in fine lines. Maximizes the durability of makeup.
Ingredients
Contains
Talc, Calcium Carbonate, Tricaprylin , Tocopherol, Ascorbyl Palmitate, Tetrasodium EDTA, Potassium Sorbate, Chlorphenesin
Suitable for
Perfect for
25+

35+

45+

Normal / Dry

Very Dry

Sensitive / Rosacea

Combined / Blank
13 gr
Gives

0

BeautyPoints
More than 25 in stock
Free shipping on orders above 2000.-
Ships within 1 business day!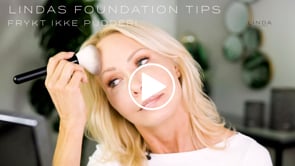 Linda's tips
Sheer Powder Foundation
How to use Sheer Powder Foundation for an even nicer finish?
Spin the movie and see how I do it!
We know skin
Filter reviews
Age:
Skin type:
Rating:
Filter reviews
Write a review and get 10 BeautyPoints =

kr

10
Only logged in customers who have purchased this product may leave a review.